"How Sweet It Is"
to open May 10th in select theaters!
Watch the trailer on YouTube!
"Real Gangsters"
to premiere at the Hoboken International Film Festival
May 31st-June-6th
"Real Gangsters" trailer

Michael to star in John Fallon's "The Shelter"

Voted BEST ACTOR for ROAD TO HELL at the
Pollygrind Indie Film Festival
October 17, 2012 - Las Vegas, NV
Possible Starhunter Relaunch!
Visit
Starfield Audiences
on Facebook for more info!
Copyright ©2005-2013 Michael Paré Media Forum
RARE VIDEOS
TV Interview Clips
"The Letter" Music Video
Paré Hosts HBO
WRITER-DIRECTORS' INTERVIEWS
ERIC RED
UWE BOLL
Please say "Hi"
in our Guest Book
MATCHGAME
Follow Michael on
Twitter
"Like" us on
Facebook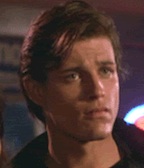 Eddie Wilson
Eddie and the Cruisers

Eddie Wilson
Eddie and the Cruisers 2
Eddie Lives!